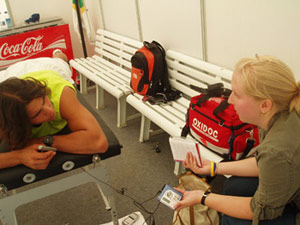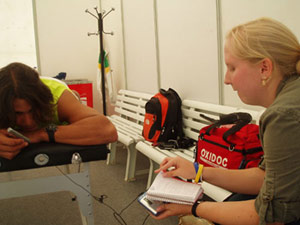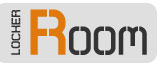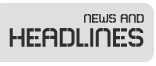 It was in the exclusive setting of Costa D'en Blanes where RafaelNadal.com decided to catch up with Rafa, his Uncle Toni, and his trainer Juanan Martorell for all the latest news ahead of the French Open. After Tuesday had been a wash out, Wednesday was glorious; the sun was beating down as I made my way onto the courts of the Sporting Tennis Club to watch Rafa prepare for his matches in the Torneig Illes de Balears de Tenis later in the day.

Throughout the course of the day, I caught up with lots of people, and spoke plenty of Spanish, and as a result we have lots of exclusive news for all of Rafa's fans at RafaelNadal.com. My first question, put to all, was "how are the French Open preparations progressing?" With Rafa as defending champion, and the man in form during the 2006 clay court the expectations have never been higher in the build up to Roland Garros.
The general consensus is that things are looking good. Juanan Martorell, who travels with Rafa for most of the season, is pleased with how the training has gone so far. "We have put in a lot of work ahead of the French Open and are very prepared. We just have to hope it pays off on the court now", he explained to me as we sat courtside for Rafa's practice session.

As he later lay stretched out on the massage table in the players' enclosure at the specially constructed tournament site, Rafa told me that in the final lead up to the French Open things would be as normal. "We won't do anything special; we are just going to train as normal in Paris." His Uncle Toni, long time coach to Rafa, elaborated, "We arrive in Paris on Thursday at around 7pm, we'll practice a little and afterwards, on Friday we'll do a double session. On Saturday we'll do a double session as well and then wait to see who and when he will be playing."

Both Rafa and Uncle Toni were in no doubt as to who their favourites were for the French Open, which begins on Sunday. "Federer", Rafa said without hesitation, before adding, "the Argentines are always dangerous, too". Toni Nadal had earlier opined, "For me, the favourites are Federer, next I'd say Rafa is one of the favourites, too, and after him I think comes Gaudio, Robredo, Ferrero and Gonzalez" when I put the question to him as we sat in the terrace of the Sporting Club de Tenis.

After Rafa's remarkable run of 53 consecutive clay court victories, I wondered if it might be hard to motivate him to keep focussed in every match - a thought which was dismissed immediately by Toni: "No it's not difficult, the motivation is there, he knows that if he plays well he has a good chance of winning and he finds the motivation in every match." Rafa agreed saying, "The competition (motivates me), it is not hard to never stop competing".

Rafa has an astounding head to head record with most players on clay, none more so impressive than that with Roger Federer, whom he has a dominant 5-1 lead against on all surfaces. I asked him if there was anyone he feared on a clay court. He was pensive for a while before reflecting, "I respect everyone, all my opponents on clay. I don't take any match for granted". His Uncle Toni, who helped instil this winning attitude in his nephew said, "I think that Rafa has respect for many players. There are some players that are very difficult to beat, and he knows it."

Earlier this week, Rafa's efforts in the 2005 season were rewarded with an award of the highest stature. The 19 year old from Manacor, was named the 2005 Laureus Newcomer of the Year at a glitzy ceremony in Barcelona. It was an exciting night for Rafa who was joined on the stage by His Majesty the King of Spain when he received his award. "The Laureus Award was very special for me because it's something outside of tennis" Rafa said. The evening was made even more special for the youngster, who was accompanied by his mother to the ceremony, by the presence of so many sporting greats, "There were lots of famous sportsmen there who I met, it was an exciting night", Rafa smiled.

With the French Open discussed, I switched sports to football. Another of Rafa's uncles, Miguel Angel Nadal, was a famous Spanish footballer who played for FC Barcelona and Real Mallorca during his career. He also played in three World Cups with the Spanish national team. It was to the 2006 World Cup in Germany that Rafa and I turned our conversation. "Do you think Spain can win the World Cup?" I asked. "Well, I'm not sure. They have a good chance, but there are lots of dangerous teams" Rafa replied. Being English, I decided to get Rafa's verdict on our chances in Germany this summer. At this point Rafa became very interested in the microphone before looking at me sympathetically and saying "well they have some good players…" I had my answer.

Rafa was much more animated though when speaking about Barcelona's recent Champion's League victory over Arsenal. "I was very happy when they won", Rafa enthused. "I follow the Spanish league a lot and Barcelona is a club I have supported for a long time." Despite being on the losing side in the final, Rafa named Thierry Henry, Arsenal's captain and striker, as one of his favourite footballers. He also mentioned Frank Lampard, Chelsea and England's midfielder among his favourites, but admitted to not knowing a lot about Manchester United's Wayne Rooney.

Finally, I asked Rafa a question that I have wanted to know the answer to for a long time, and it was a popular question in the Ask Rafa emails we got. "Why do you bite your trophy?" Unfortunately there is no secret superstition behind it. "There's no special reason" Rafa said. "I just did it the first time and it stuck". It certainly is becoming his trade mark pose though.

Make sure you visit RafaelNadal.com regularly as we bring you all the latest Rafa news and more exclusives.
© 2005 PREMIER ALLIANCES. ALL RIGHTS RESERVED